Working from Home Has Highlighted the Importance of an Ergonomic Office Chair
With so many of us working from home now we're probably realizing how badly we sit. After just an hour of sitting at your desk either your wrist, neck or back is going to start giving out and we're just left scratching our head as to why our body is in so much pain. No one ever really taught us how we were supposed to sit, we'll I mean some may have we just didn't listen. It just seems all of us working from home have adopted the uniform comfy position of sitting with one leg bent on the seat the other left dangling wherever it can lie, leaving our bodies hunched over our keyboards like we're about to "break into the firewall". Surprise, surprise, this is most likely where our back pain is coming from.
So after dealing with numb feet and so much discomfort we wanted to figure out what would help us out so we don't have to work in agony anymore. Our step one was to find the best ergonomic office chair that still looked good. And finding the best ergonomic office chair that looks well designed is very difficult to do. This is everything we've learned after my hours and hours of research, so you don't have to.
Too Long Didn't Read
We broke up this article to highlight the five main types of people that are looking for office chairs and then a list of price based alternatives that might not be part of the main five work from home type of people and like really we're on a budget.
The Best Overall Ergonomic Office Chair:
Herman Miller Aeron Chair
This is the best of the best, World-reclaimed, comfortable and most notable for its beautiful design is the Herman Miller Aeron Chair. If your pockets have enough padding, your body will thank you for buying this chair. Herman Miller is like the top notch for everything office furniture (chairs, tables, sofas, really everything), I don't think you can go wrong with anything from them. The only thing is your budget needs to account for their price tag. If price isn't an issue for you, get excited because the Herman Miller Aeron Chair will blow your mind (and keep your posture right)!
The Herman Miller Aeron Chair is designed with over twenty years of technology focused on ergonomics. It's not just a regular office chair but an extension of your body. Aeron keeps your body in the strongest position by optimizing your posture with adjustable pads that help stabilize your sacrum. This also supports your lumbar region of your spine to keep your chest open and your pelvis tilted forward ever so slightly.
Personally my body runs hot so the fact that it's got that woven mesh you can be sure to stay cool especially during long work sessions. Not only is the mesh smooth enough to let your body breathe, it's also super comfortable! It cradles your body so you feel good but keeps your form proper so you're not worried about injuring your body while you work from home. There's a lot of fluff words I used, but it's what I think about the chair and don't think you'll go wrong with this choice (provided you're in the financial state to do so.)
I know sometimes some of you just want to see the jot notes so here are the pros and cons list we came up for the Herman Miller Aeron Chair.
Pros for the Herman Miller Aeron Chair
Cons of the Herman Miller Aeron Chair
– 3 Different Size Options
– Mesh fabric keeps you cool and comfortable
– Good back support that can be upgraded if you have the money. We recommend it: Lumbar support ($$) or Posturefit SL ($$$)
– Seat can be upgraded to tilt
– Arms can be upgraded to move
– 100% Green and made in North America (Michigan)
– Ships fully assembled
– It's expensive
– Each upgrade is like an additional $150
– Arms are vinyl or leather (aka sweaty sticky arms)
---
The Best Budget Ergonomic Office Chair:
Komene Mesh Office Chair
If you live in the United States as I would say the Komene Mesh Office Chair is definitely the best ergonomic office chair that has the most bang for your buck. I was disappointed to find that these didn't ship to Canada but after doing some research this seems like a manufactured repro (I'm not sure that's the right word) but essentially Amazon has multiple different brands that all carry the same chair. I'm not sure which one is the original and which one would be the best built. But I learned about this shape and form factor under the brand Komene so that's the recommendation I'll go with until someone can find a better one.
This is on the higher price side of those chairs that look the same so I assume this is the original and better quality one. Around November it goes about $50 off, but even at it's normal price of $300 I think it's a fairly valued ergonomic office chair. It's mesh so I personally like that it's breathable and kinda just hugs your body. Something to note though if you are big or tall that a mesh seat if not manufactured well, will eventually sag. So when looking at chairs it's important to see the warranty to make sure that if and when it the seat begins to sag you are able to replace it. Thankfully the Komene mesh chair comes with a five year warranty (not like Herman Miller's 12 year). But five is pretty good considering you don't need to pay the premium price tag of Herman Miller.
Update: I think Komene Mesh Chair is made by CoolRisen
Update: I think this is very very "similar" to the Ergohuman Mesh Office Chair
Komene Mesh Chair Pros
Komene Mesh Chair Cons
– I like how mesh looks and breathes keeping you cool
– It hugs and supports you in the appropriate places to ensure you have correct posture
– Seat has decent tension and doesn't feel saggy for 120-160lbs
– Headrest is pretty good, doesn't wobble
– I also listed this as the best budget cause it's the one that I like the look of the most. It looks premium without the price tag
– Lumbar support edges are plastic and if you sit it the right weird spot where you back can touch that it's uncomfortable
– Personally not a fan for the armrest or headrest on any chairs so I took it off. Not sure how to pinpoint this as a con but something to keep in mind of.
---
The Best Office Chair For Lower Back Pain:
Ergohuman Office Chair LEM4ERG (Leather Seat and Mesh Back)
Come to think of it the Komene Mesh Chair looks alot like this one and this is probably the original then. However it does have that higher price tag. But when it comes to lower back pain, this is the one that has the best support. Ergohuman's site looks hella sketch (dunno if this is the right one), but everyone with back pain says that this is like the best chair they've had.
From the first look it's the lumbar support that you see. The backrest is supposed to be height adjustable so if you have sciatica, annular disk tear or such, it should be able to adapt to whatever back pain you're dealing with. After doing some research the main thing I noticed was that people with the mesh seating find pain in their tailbone. Keep in mind though that most people that purchase this chair are people with mild to severe back pain so it's needed for this chair to be really good quality.
Best Ergonomic Chair For People That Sit for Long Hours
So in combination with people that have severe back pain and those that sit in their chair for long hours the best recommendation that I've found was that the people that opted for a leather seat. The Ergohuman Office Chair with the leather seat had more padding for their behind and essentially made this issue negligible. I think my butt would get hot since it's not mesh but I'd assume if you need to work for several hours on end it's a give and take and I'd rather not deal with the pain in my tailbone. So what I'm trying to say is I'd opt in for the leather seat to make sure my butt was protected.
Pros for Ergohuman Office Chair
Cons for Ergohuman Office Chair
– Very pronounced lumbar support. Super key if you're dealing with back pain
– Adjustable back rest to make sure that the spots you need supported get treated right
– Looks good and you can choose all mesh, all leather, or combo
– Still supports your back if you find yourself hunching over
– Headrest isn't really removable (I don't really like head rests)
– A pretty pricey chair. And I think I'd spend the extra money to go with the aeron so I like how it looks too
Best Looking Chair with Ergonomic Support Under $1000: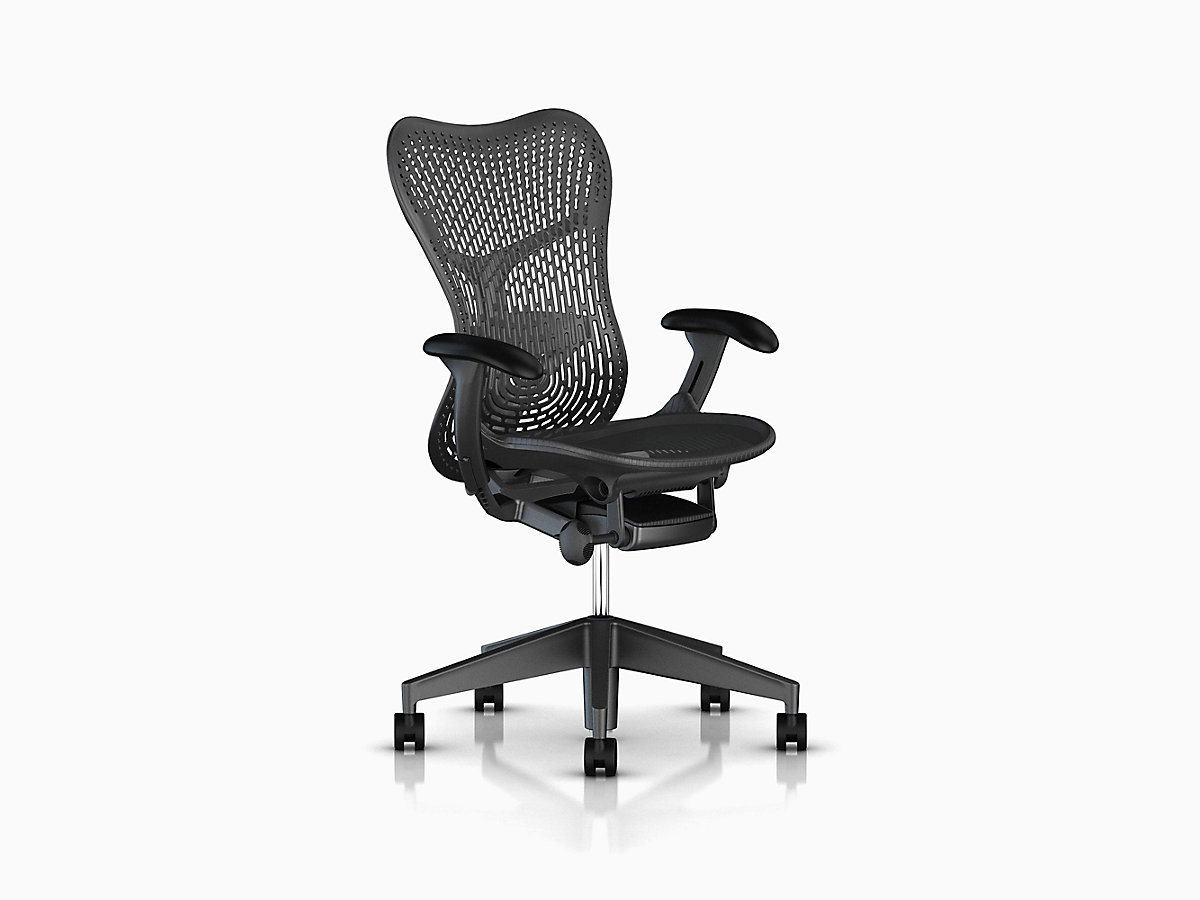 Herman Miller Mirra 2
Clearly I'm slightly biased to chairs that look good. But keep in my looks are all subjective and what I like may not be the same as you so that's fine too. But I really like how the Herman Miller Mirra 2 Chair looks. All black everything would be my go to, although it really depends on the room cause the white looks nice too.
But obviously since were here for ergonomic support it's important to keep that in mind. The basic loop spine has great support but I'd opt in for the butterfly suspension back because not only does it look good but feels great for your back. And lastly it's all mesh so as you know I like my body to be able to breathe and this sounds like a dream.
Pros for the Herman Miller Mirra 2 Chair
Cons for the Herman Miller Mirra 2 Chair
– Everything is pretty much adjustable (basic stuff plus seat tilt, seat depth and lumbar support)
– That premium 12 year warranty
– Comes fully assembled (that premium white glove service)
– Still very expensive
– Not great for the big and tall people
– Some people's tailbones hurt
---
Best Ergonomic Chair Under $500
SIHOO Ergonomics Office Chair
It's not the perfect chair for everyone. And, like many other mass-produced office furniture products, there have been some issues with faulty parts.
For example, as we'll mention below, the headrest is both height and tilt adjustable. But these features have been found to either not last too long or be defective with some users. Also, the pneumatic gas cylinder has been an issue for some customers.
Luckily, Sihoo offers solid and responsive customer support, as well as a 3-year period after purchase for all parts replacement. While their standard warranty is only 1-year, this added protection for parts is an added layer of protection and customer assurance.
---
Best Ergonomic Office Chair Under $200
Modway Articulate Ergonomic Mesh Office Chair
The Modway Articulate Black Mesh Office Chair is a good looking ergonomic chair with a nice design on the backrest.
This formed from the frame and panels of mesh and leads to a simple design that fits into most office spaces. Although the color selection does offer colors bold enough to make it stand out if needed.
The number of levers sticking out of this base of this home office chair also suggests that this is a model that can be adjusted well to different needs.
---
Cheapest Ergonomic Chair Under $100
NEO CHAIR Office Chair Ergonomic Desk Chair Mesh Computer Chair Lumbar Support
Cheap, ergonomic and functional office chair. The Neo chair hits the price point when you're balling on a budget and can't seem to find any hand me down chairs that won't injure you.
It's not the best chair in the league but there's a 3 year warranty on Amazon so thankfully their returns and repairs are pretty bless!