What is Google's gtag.js?
Are you wondering how to get Google Analytics working on your site? Are you confused about Google's new tracking code system? Are you wondering what the heck gtag is? And what you're even supposed to do all about that? Well, you're in luck, cause you've come to the right spot!
If You Use Google Analytics
We all know Google Analytics is THE TOOL to track, learn and report everything you'd want to know about your website traffic. Whether you're new to blogging or you've been at it for a very long time we can all agree that reading through Google's documentation on anything can be a nightmare. So if you've been using an old outdated Google Analytics plugin or setup your tracking codes by code a century ago and have no idea what gtag is. We're here to make it simpler for you!
The Global Site Tag Links Google's Products
gtag.js is Google's newish tracking code system called the global site tag. Because Google's developed so many products that you might have used, it gets complicated when each one is its own separate entity (Ads, Campaign Manager, Search Ads 360, etc.). So Google decided instead of having multiple tags for each product you can collect all measurements by just adding code to your site hence: gtag.js! If you enjoy reading through documentation and trying to figure out the code. Google is really good at documenting everything: link to gtag.js here. But sometimes our main focus should just be on creating, and in that case, we have MonsterInsights!
If you didn't already know MonsterInsights, they are a plugin developer that makes Google Analytics actually understandable. And they put it all within your WordPress dashboard! (No more switching between tabs when you want to understand your analytics!). What's special is that they just made Google's global site tag its default tracking code for new users so if you're completely brand new all you need to do is install Monsterinsights and you're good to go!
Current MonsterInsights Users Just Click a Button
As for the experienced WordPressers that are already using MonsterInsights, all you need to do is find the limited-time option that just asks you to make the switch to gtag.js. And *flip the switch*. You're done!
Old Tracking Code is Still Safe
I know some of you may be freaking out about the event tracking that you hired the random guy on Fiverr to set up for you, but you don't even need to worry! You actually don't need to worry about any of the custom code that you may have set up in the past because MonsterInsights will automatically detect analytics.js events and pass them through the Global Site Tag (gtag.js) meaning that they'll still work!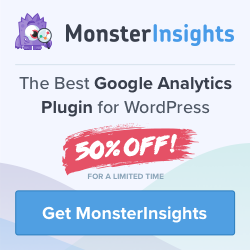 That was the PSA I had for y'all just wanted to let you know that MonsterInsight has the gtag switch covered for you. And if you're new to analytics and all that you should definitely check them out cause it will be one of the best and easiest ways to understand the data for your site!